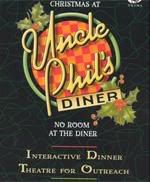 Come see Matthew and I whoop it up in
Coley's Comedy Extravaganza.
Christmas Puns and Sentimental Moments are in store like a long listen to your favorite Andy Williams Christmas album.
I spent the waking hours and then some this past weekend making costumes. Now for the unending week of rehearsals and performances. But we're having fun getting nothing else done.
Thursday December 14 6:30 pm
Friday December 15 8:00 pm
Saturday December 16 1:00 pm and 6:00 pm
Sunday December 17 1:00 pm and 6:00 pm